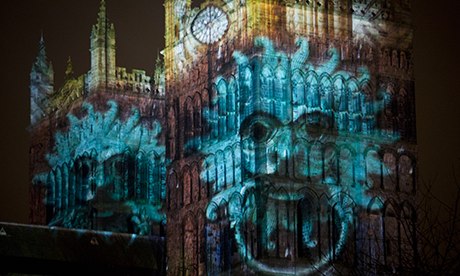 Lumiere. Photograph: Matthew Andrews
Lumiere, Durham
Come, light-starved people, and gather like moths around the illuminated delights of the third Lumiere festival. With nearly 30 installations dotted around the city, magical transformations can be found around every corner. Telephone boxes become aquariums, a 3D elephant lumbers across the ancient Framwellgate Bridge and the frowning exterior of the Home Office's Millburngate House is reborn as an interactive jukebox. Durham Cathedral, meanwhile, will be illuminated in both old and modern senses with the return of Crown Of Light, a son-et-lumière piece featuring the jewel-like Lindisfarne gospels.
Various venues, Thu to 17 Nov
AB
The Wroth Silver Ceremony, nr Leamington Spa
The Wroth Silver Ceremony will be held on Martinmas Eve before sun-rising. That's 11 November at approximately 6.45am for your smartphones. Britain's oldest recorded ceremony, dating back to 1086, upholds the fine English traditions of class and old money reverence we Brits hold so dear. Steel yourself against frost with a rum and hot milk in the local pub before the ceremony begins (you'll need a ticket). Then make your way to the Wroth Silver stone to witness each local parish pay the landowner, The Duke Of Buccleuch, for the right to drive cattle over his land. Then return to the pub for a full English, speeches and a toke on the churchwarden's pipe.
Knightlow Hill, Mon
CC
Vintage Bollywood Memorabilia, London
Marking 100 years of Bollywood cinema, this display and auction of vintage memorabilia highlights the quality and breadth of Indian film, as well as its growing popularity in the UK. The posters, lobby cards and vinyl LPs on show and on sale were used to promote films like 1960 classic Mughal-e-Azam and 1975′s epic Sholay, suitable starting points for any Bollywood novice. Viewings start Thursday, but those wanting something special should book for a tour of the exhibits, available on Friday and again on 28 November.
Westbury Gallery, W1, Thu and Fri, then 28 & 29 Nov
IA
Out & about
London Kieron Bryan Benefit
A night of music and comedy (with Claudia O'Doherty, Sheeps and Kevin Eldon) to raise funds for the detained journalist.
The Windmill, SW2
Cake International, Birmingham, Sat & Sun
Bake-off obsessives gather for workshops and demonstrations in the art of sugarcrafting, etc.
NEC
Skate At Somerset House, London, Thu to 5 Jan
The capital's coolest rink. Kids can practise their skills at Penguin Club – or arrive late for the DJs.
Somerset House, WC2
An Evening In Wonderland, Manchester, Thu
The festive season kicks off, with decorations, music and other Chrimble-themed entertainment,
Trafford Centre
Punk 45, London, Fri
Soul Jazz launches its new book of punk single artwork. Editors Jon Savage and Stuart Baker chat to the Guardian's own Alexis Petridis.
Rough Trade East, E1
//