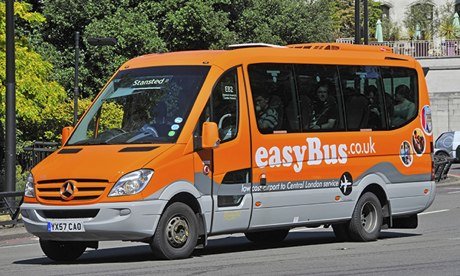 Busman's horror day: the easyBus driver took a detour after hitting bad traffic on the motorway, but things didn't turn out well. Photograph: Alamy
If you are planning to take an easyBus from London to one of the capital's airports, you might want to casually ask the driver if they know how to get there before you board.
That's the advice of English teacher Mary Stabb after she claims the driver of an easyBus she caught to Stansted airport got lost and ended up arriving so late that she missed her flight.
Stabb says the driver took a "completely wrong" route to the Essex airport from London, taking in the M1, some country lanes and the A1 back towards the capital, before he eventually – and belatedly – got them to their destination. She says she even sat next to the driver to help him find his way, and borrowed a fellow passenger's mobile phone so they could see where they were on Google Maps and try to find the best route.
However, easyBus says bad traffic forced its driver to seek an alternative route: "Had he stayed on the motorway the delay could have been even longer." EasyJet billionaire Sir Stelios Haji-Ioannou, founder and chairman of easyGroup, told Guardian Money that "any driver can get lost a bit driving in country lanes – having left a motorway to avoid a blockage – and any mode of transport can be late by an hour-and-a-half (give or take)".
Stabb's travails started on Sunday 14 July when she boarded the 4.30pm easyBus from Baker Street. It left on time and was due to arrive at Stansted airport at 5.50pm, an hour and 10 minutes before her flight to Madrid, where she works as a teacher, was due to depart. She had hand luggage only and had already checked in.
Stabb's mother, Nicola, originally wrote to our Consumer Champions column to ask for help. She said that by the time the bus reached Stansted it was 30 minutes after her daughter's flight had departed. "She has a letter signed by the driver to confirm the route he took and the delay experienced," she says.
Money then spoke to Mary Stabb about her alleged magical mystery tour. She told us: "After driving up the M1 and turning off it on to country lanes, he stopped a couple of times to consult a map. I asked him if he wanted me to help him find his way and he said yes, so I got into the front passenger seat next to him. Another passenger lent me her mobile to see where we were on Google Maps and find the best route. I helped him get back to the A1, and once we did he decided to drive back down towards London."
She says she felt the driver was responsible "because he took a completely wrong route to the airport, regardless of what happened after he saw there was traffic. I think he either thought he was going to Luton or had only done the Luton route before and so for some reason went that way. The bus had no satnav – the driver just had a normal road map. He did speak on the phone once or twice, but I don't know who he was talking to because he spoke in another language".
Stabb says that when they finally got to the airport the driver said sorry but refused to take them back to London unless they had bought an online easyBus ticket for that journey.
To make matters worse, because she had moved up to the front, she managed to leave her jacket on the bus. There were no other flights to Madrid that day so she was forced to take a bus back to London, rebook a £200 easyJet flight to Madrid and travel the following day.
Stabb is furious because easyBus, which bills itself as "probably the cheapest" way of getting from central London to Gatwick, Stansted and Luton, failed to reply to her letters or refund the cost of the replacement flight. Meanwhile, her mother told us that having looked at the company's terms and conditions, "it seems they are not liable for any loss, and if they are, it is no more than the cost of the bus ticket".
Stabb is not the first customer to complain about the company. On the customer review website, Trustpilot, earlier this week easyBus was ranked 261st out of 261 companies in the Travel and Holidays category, with a "very low" score of 1.2 out of 10, based on 61 reviews. The six most recent reviews, all posted last month, gave the company one star out of five. However, it could be argued that those who have a positive experience are less likely to post comments on such sites.
Haji-Ioannou offered Stabb an ex gratia payment of £100 "in full and final settlement and without any admission of liability in the future", and threatened to sue Guardian Money if we suggested the driver didn't know the way.
He says: "One of the fastest ways (in terms of time, although it is more miles) to get from Baker Street to Stansted is to go up the M1, turn right on the M25 and then go up the M11 … the driver made a judgment call to leave the motorway … the rest is just colour and speculation by an angry customer trying to make money out of a mishap.
"We charge as little as £2 for that journey. I think it is a fair deal. If you find a fairer deal getting from central London to Stansted, do let me know. I challenge any taxi driver charging £100 for the same trip to find a better solution to a blocked motorway. And try to get your flights back from the minicab!"
He adds, in a message addressed to Stabb: "All forms of transport are subject to delays, especially if they run on the road. That is why we advise people to book to be at the airport two hours before the flight. You seem to have booked to arrive 70 minutes before on your own admission … we will not be able to stay in business if every time there is a traffic jam on the motorway we pay for people's flights. If the information I have seen is correct, the delay in arrival was at most one hour and 40 minutes. There is no way to prevent such delays. Try to get money back from British Airways every time they are late by one hour and 40 minutes. Or from any other transport provider …'
However, he says that "to improve control of our services, we have now fitted fully automated tracking devices supplied by the RAC".
Money also asked Haji-Ioannou about easyBus's low score on Trustpilot, which claims to be "the largest review portal in Europe". He said: "I have never heard of Trustpilot. Why do we have to believe them?"
//