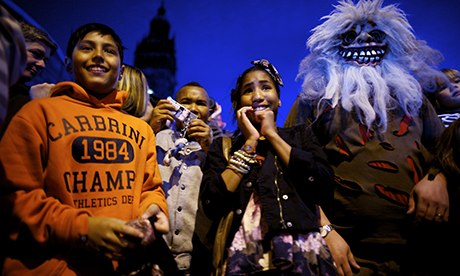 Fright Night. Photograph: Christopher Thomond
Fright Night, Sheffield
This decidedly family-friendly spook-fest is expected to draw 40,000 revellers, and Fright Night's mildly macabre attractions include a zombie-infested Winter Gardens, whose 20 undead residents will be periodically released from their cages to dance. Over at Tudor Square, meanwhile, University of Sheffield scientists will be making pumpkins erupt and revealing the secrets of fire-eating. Day of the Dead-themed samba bands, a T rex dinosaur and the city's 14-foot processional giants will all be on the loose, while the fairground rides on offer include – naturally – a ghost train.
City Centre, Sun
AB
Avalon Faery Fayre And Ball, Glastonbury
While most of the country will be getting ready for ghoulish pumpkin-oriented Halloween events, this festival shuns the American influence and goes with a celebration of the Gaelic and altogether more pagan festival of Samhain. No trick-or-treating here, but still plenty of fun, with a largely crafts-based day of creativity/entertainment that features faery artists Jasmine Becket-Griffith, Josephine Wall, Linda Ravenscroft and Terry English. A faery royalty-themed ball takes over the venue in the evening, with Samhain-friendly mediaeval and Celtic music from the Dolmen and Rapalje, and there's a photo booth for you to be snapped in wearing your faery finery.
Glastonbury Town Hall, Sat & Sun
IA
Homotopia, Liverpool
The liberating explosion that 1970s music detonated in teenage bedrooms echoes throughout Liverpool's LGBT arts fest Homotopia. England's Erotic Dream charts queerness in punk via items drawn from Jon Savage's collection, while Boy George and TradeMark's art show The Way Out features portraits of Lou Reed and Iggy Pop. Patti Smith and Robert Mapplethorpe are among the characters making their own rules in Earthfall's dance piece Chelsea Hotel; a more elegantly poised icon is offered by April Ashley: Portrait Of A Lady, which combines the model's story with those of other transgender people.
Various venues, to 25 Nov
AB
Out & about
Bring To Light, Birmingham, to Sun
Avant garde music and mutterings from luminaries such as Dinos Chapman and Shangaan Electro.
Various venues
Dark Circus Halloween Ball, London, Sat
This shindig is more spectacular than spooky with fire breathing and a "belly dancing sword performance".
Grand Hall At St Pancras, NW1
Halloween Week, nr Keswick, Sat to Fri
The haunted halls of Muncaster Castle welcome intrepid visitors for a week of scaring.
Muncaster Castle
Halloween At Holkham, nr Wells-next-the-Sea, Sun to 3 Nov
Norfolk gets spooky via spiders with this fest featuring a webbed maze and arachnid hunt.
Holkham Hall
Sonica, Glasgow, Thu to 3 Nov
Visitors to this sonic art fest can take in installations including the unnerving "singing mosquitoes".
Various venues
//